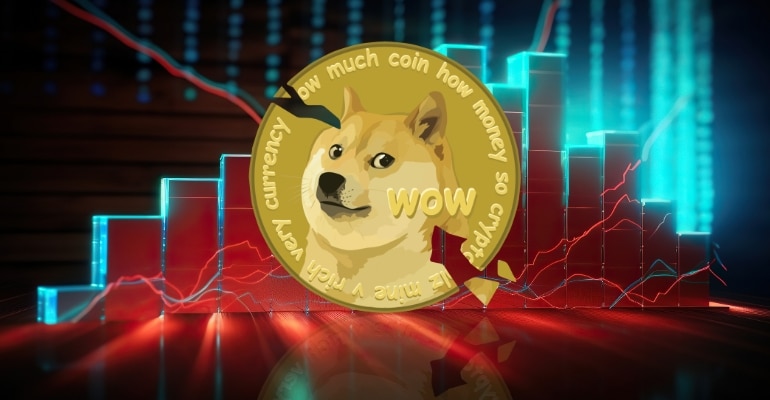 Is Dogecoin dead in 2023? Complete DOGE analysis
Without a shade of doubt, the realm of cryptocurrencies is fascinating yet intriguing and markedly changing. Various prominent cryptocurrencies, for example, Bitcoin, Dogecoin, etc., have captivated the hearts of investors and fanatics remarkably. Incidentally, Dogecoin, which is classified as a meme coin and was created to poke fun at Bitcoin, has overwhelmed investors with its fascinating Shiba Inu mascot engraved in it. However, as we near the end of the year 2023, a burning question crops up in many investors' minds: Is Dogecoin still a hands-on cryptocurrency, or has it died? To answer this, in this explorative and inclusive guide to DOGE, we have covered a lot of information based on its current status and prospects.
DOGE Price History and Market Capitalization
Dogecoin's price history from 2021 to 2023 has been impactful yet worth knowing. To be precise, Dogecoin's value was only $ 0.005 in January 2021, but it skyrocketed to the overwhelming value of $ 0.23. However, as 2022 set in, volatility played a critical role by markedly changing Dogecoin's value, causing it to vary from $0.10 to $0.30 due to various market sentiments and celebrity endorsements.
Incidentally, the year 2021 turned out to be rather generous for DOGE, as during this period, it could put meme coins on the crypto map. Specifically, from January to May, DOGE reached beyond 13,000% to a market cap of more than $70 billion, paving the way for it to gain the standing of the 4th leading cryptocurrency next to Bitcoin, Ethereum, and Binance Coin.
As the year 2023 set in, Dogecoin confronted various unprecedented challenges. The coin's value gradually depreciated by 35% from its peak and is currently resting at 11% less than its 2023 beginnings. This sharp diminution in the Dogecoin value has urged its investors and fanatics to consider and rely on Dogecoin price prediction, whether it is the right decision to invest it or not.
Market capitalization is instrumental in evaluating how well a cryptocurrency is performing in the competitive and varying world of digital assets. Take, for example, our coveted cryptocurrency, Dogecoin. As reported by the market cap, although Dogecoin is not comparable to other prominent cryptocurrencies, its cultural impact and dyed-in-the-wool community make it a glorious and impactful presence.
Development and Technological Updates
The Dogecoin blockchain is one of a kind and utilizes a proof-of-work consensus mechanism. Over the years, the blockchain has undergone a variety of key tech innovations and changes that serve as a testimony to its assurance to keep itself updated in the realm marked by unprecedented changes. Now, let's understand these innovations in detail below:
Dogecoin Blockchain is typically marked by its invariable burning desire to be at the leading edge of innovations, and therefore, it invariably does its best to fulfill it. To meet the need effectively, Dogecoin's crew members work tirelessly to optimize or scale its performance. These optimized operations help Dogecoin carve a niche in the highly competitive realm of cryptocurrencies.
While Dogecoin is on the way toward earning enhanced cachet and prominence in the thriving and competitive world of digital assets, this entire success should be attributed to its dyed-in-the-wool development team. Their tireless efforts contribute to optimizing the performance of blockchain in terms of functionality and security. The team members are committed to ironing out inclusive technical issues and maintaining the network's integrity.
While evaluating the recent Dogecoin updates, they all seem centered on optimizing the core features and dealing with various potential issues related to the network's integrity, security, etc. The nitty-gritty of the team's efforts is to provide their users with the best experience in every way possible.
Notable Partnerships of DOGE in the Gambling Industry
While Dogecoin is being embraced by virtually every global industry in the world, including gambling, a lot of crypto gambling fanatics exclusively consider choosing the Dogecoin crypto mobile platform. This has become feasible due to the partnerships forged between DOGE and many crypto-gambling platforms. This partnership is fully embraced and appreciated by crypto gamblers, especially those who prefer DOGE over other cryptocurrencies. One of the basic reasons for choosing DOGE is the highly convenient and fast payments that are easily available in the best Dogecoin casinos. Another great reason why DOGE has become the first preference of players is its lower fees.
Considering all the reasons said above, suffice it to say that Dogecoin has carved a niche in the world of online crypto gambling, which paves the way for gamblers to participate in online gambling and revel in their favorite casino games. This undertaking evinces the burgeoning impression of DOGE on various sectors, including the fascinating world of online gambling.
Final Thought
Dogecoin, being in 2023, is still alive and striving to thrive despite various challenges the crypto asset has confronted from the beginning of the year to the date. In the meantime, it is also crucial to note that this digital asset has enjoyed a meteoric rise to a certain extent. Several sectors and industries, including online gambling, have rapidly embraced Dogecoin. This manifests its burgeoning popularity and prominence in the existing year. Several organizations from different backgrounds have forged key partnerships with Dogecoin, which emphasized its burgeoning adaptability. Although it is hard to predict the exact future of Dogecoin, factoring in the digital asset's thriving community and appeal implies that it may prosper.