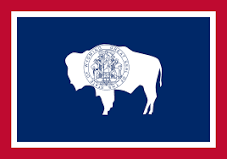 Wyoming Blockchain Bill Permitting Tokenization of Stocks
Wyoming is the 10th largest state in terms of area and 2nd most densely populated state in the country. Wyoming, the state of U.S. is to issue blockchain-based tokens that represent stocks. According to official state legislature site, the lawmakers from Wyoming have introduced legislation which allows the issuance of tokenized stock certificates with the help of blockchain technology.
"Corporate stock-certificate tokens" is the House Bill 0185 which was jointly filed by representative Jared Olsen (Republican), Senator Chris Rothfuss (Democratic) along with six other Republican representatives. The bill proposed an alteration according to which it is permitted to use tokenized digital share certificates on account of paper-based versions. The proposed bill states that:
"The articles of incorporation or bylaws of a corporation may specify that all or a portion of the shares of the corporation may be represented by share certificates in the form of certificate tokens."
The bill frames the groundwork to store certificate tokens which represent stocks on blockchain "or other secure, auditable database." That information is then "transmitted electronically to the issuing corporation, the person to whom the certificate token was issued and any transferee." The bill if passed will become effective from July 1, 2019.
Wyoming is undertaking several legislative initiatives around cases which use blockchain. It passed 2 bills in order to promote a regulatory environment towards virtual currencies & blockchain technology. The state approved a bill in the last week, which allows the blockchain based startups to operate in the regulatory sandbox for a legislative vote. This regulatory sandbox is a flexible & supervised testing environment that offers waivers for fixed rules that would otherwise hinder innovation. It unitely passed a bill which exempts some of the utility tokens from securities regulations in the last February. Another bill says that an "open blockchain tokens with specified consumptive characteristics [as] intangible personal property."
The state's Teton County signed a contract of understanding with Medici Land Governance which is a subsidiary of Overstock.com's Medici Ventures.