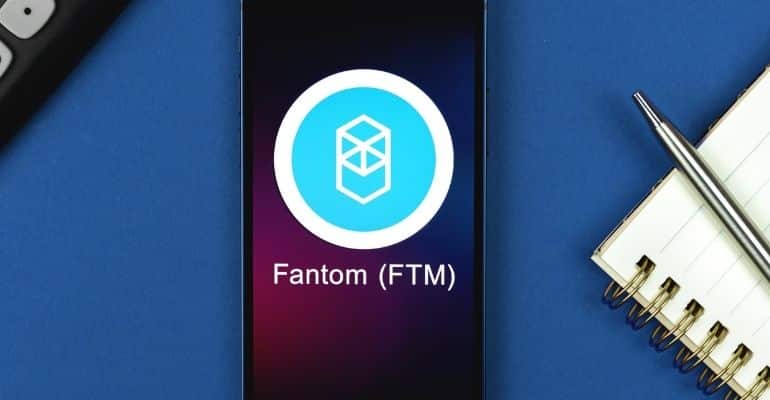 Fantom on Its Heels, Further Downfall Imminent?
Fantom made its name amongst the crypto space by outperforming its peers in market gain in the last two weeks of December 2021 trading. Hitting an obnoxious rally of above 150% in such a short time has somehow triggered a profit booking scenario. On the surface, Fantom uses DAG smart contracts to provide decentralized finance-related services. The most amazing aspect is Fantom using Directed Acyclic Graph working relatively similar to node systems.
There are several advantages with DAG systems as they save on block creation time that improves transaction speeds with zero transaction fees. Since DAG is relatively new to the crypto world, it will take some time to convert them into a decentralized ecosystem. As of now, new cryptocurrencies use DAG only to start the blockchain network instead of using it as a system to stack further transaction data in the existing network.
Fantom in March 2022 stands at 42nd rank with a combined market capitalization of USD 2.86 billion and 80% liquidity. While the price trend cannot be accurately determined as FTM has been breaching back-to-back support levels, the last support level stands at $0.9262, about 14% below the current trading value of $1.1099. FTM has ignited buyer sentiment in the range of $1 to $1.5 and offers advantages to its users over traditional blockchain-based cryptocurrencies.  
Fantom Price Analysis
Fantom shows clear pivot points of rejection at $3 and $2, and if this trend is to be believed, the next rejection will come around $1 levels by the first week of April 2022. Bollinger bands widening could indicate the further drawdown at the FTM counter in the coming days.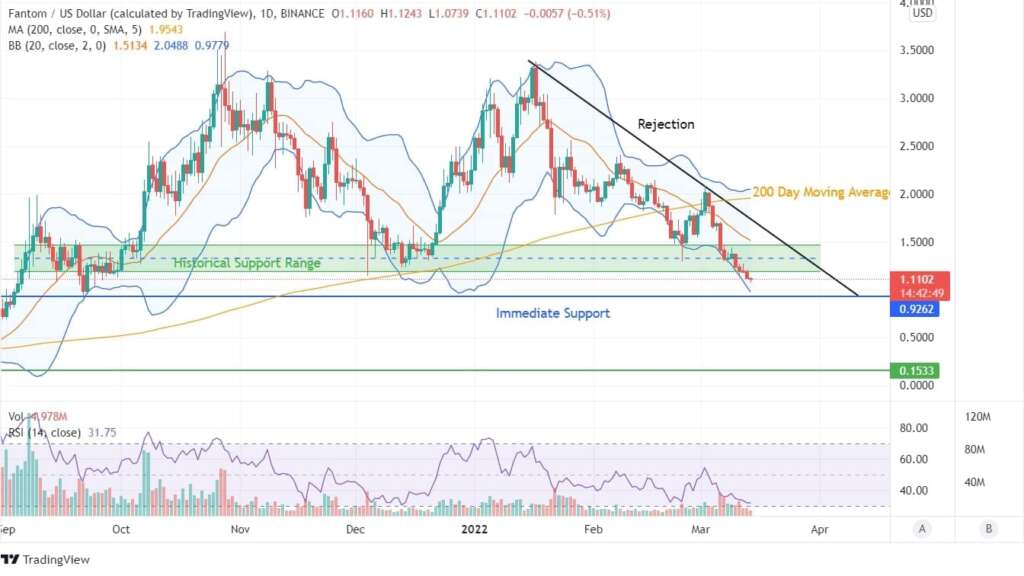 FTM price trend shows tremendous selling pressure and an increasing volume of selling transactions. The recent spike in selling volume shown on March 06, 2022, has weighed heavily on the immediate support levels of FTM. Since the 200 DMA level has been breached, there has been a maximum deviation of 45% since this level. FTM should bounce back shortly to at least $2 levels as per Fantom price prediction. Widening price trends could be a demand caution if investing is fresh. Still, for those already invested at higher valuations and FTM believers, the current value is a good time to average out their buying levels. RSI has hit an all-time 2022 low and inches closer to the December 2021 selling levels.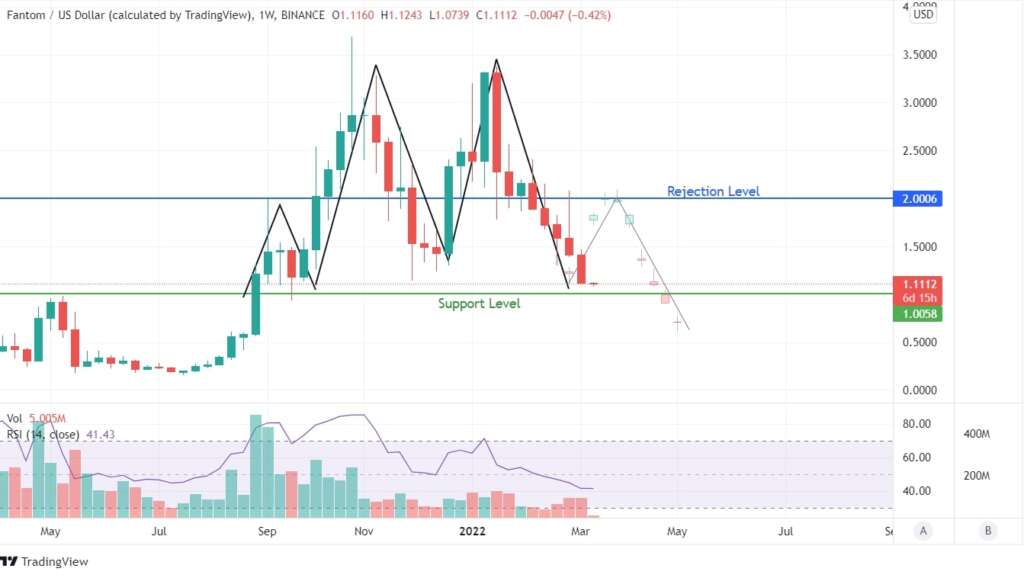 The price trend has fallen to fresh lows leveling out with pre $0.25 value with RSI hitting under 40. A support level of $1 would be an important level moving forward. Consolidation at any psychological level could spike buyer sentiment as demand tends to rise in times of consolidation. In case of a cyclic repetition of price trends, FTM can hit $10 over the next few years.