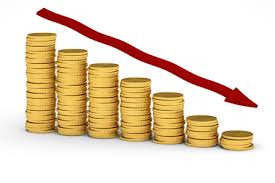 Nvidia Predicts Downfall of Q4 Revenue Due To Decline In Crypto Mining Conditions in China
Based in Santa Clara, California is an American technology firm incorporated in Delaware. It has invented graphics processing units (GPU). The firm is involved in designing graphics processing units for gaming on laptops as well as professional markets of workstations, mobile devices, notebooks, PCs etc. It has introduced itself in artificial intelligence computing leadership across the world.
According to a recently published press release, Nvidia has predicted its financial estimates for Q4 for the fiscal year of 2019 on Monday. The firm forecasted a downfall of sales in the data center as well as gaming platforms because of excess mid-range channel inventory following the slump in the crypto sphere. Thus stating disappointing news for its investors but without directly blaming the decline in cryptocurrency mining.
The company released a statement on Monday, according to which only $2.2 billion is expected as Q4 revenue for its fiscal 2019 which ends on 31st Jan, unlike the previous estimation of $2.70 billion. The fever of crypto mining increased the demand for Nvidia's graphics processing units (GPUs). But due to the decrease in crypto valuations, the demand began to diminish and thus the price of GPU did not decrease enough to attract the new consumers to buy more affordable cards. This whole led to a decline of Q4 revenue which is dubbed as "Crypto Hangover" by the founder of Nvidia. The company has been issuing a warning of "substantial decline" in Q4 revenue from crypto miners for quite long.
The CEO, Jensen Huang wrote a letter to its shareholders, which states:
"Exiting Q3, we estimated channel inventory would be largely depleted within one to two quarters, or between February and April. Our view of that today remains unchanged." He further added: "Q4 was an extraordinary, unusually turbulent, and disappointing quarter."
The company cited that "deteriorating conditions" of crypto mining due to a lack of crypto-related business in China indicated Q4 revenue from gaming GPU sales in Q4, to be lower-than-expected. The company will roll out its full Q4 results on February 14. Nvidia expected revenue of $100 million the second quarter of fiscal 2019 but unfortunately secured only $18 million revenue as Q2 revenue.
During an earnings call last summer the chief financial officer, Colette Kress quoted:
"Whereas we had previously anticipated cryptocurrency to be meaningful for the year, we are now projecting no contributions going forward,"
As per the previous report by a News Media, Nvidia had experienced a massive stocks sell-off in late 2018, which declined its stock price by 54 percent. There is again a downfall of Nvidia's stock price by 15 percent due to a decrease in quarterly revenues, Thus stock price is now traded at $135 experiencing a low from $158.08 with which it opened today.