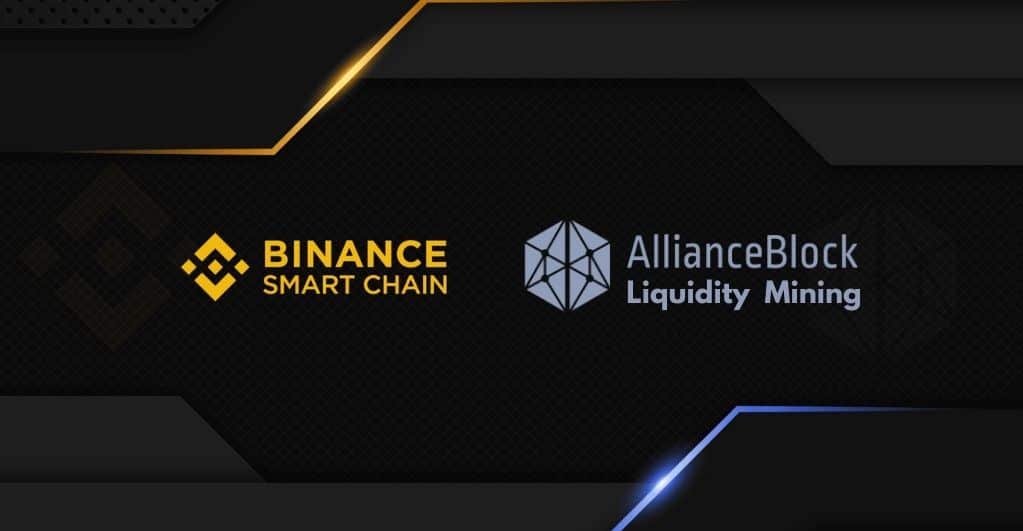 Binance Endorses Liquidity Mining Program with AllianceBlock
Binance Smart chain, the leading global crypto exchange, takes a giant leap towards widening the DeFi ecosystem, which is not possible without liquidity mining. To accomplish this objective, Binance has taken the initiative to endorse a Liquidity Mining Program on its platform Binance Smart Chain for the first time, along with AllianceBlock. The proposed liquidity mining program will be the first officially inscribed and audited program that will go live on the Binance Smart Chain platform (BSC) on December 30, 2020.
However, the partnership will be more than just a Liquidity Mining Program. And instead, it will focus more on boosting up the institutional investments toward blockchain. This partnership focuses on rolling out trillions of dollars in global capital markets by bridging the gap between TradFi (traditional finance or CeFi) and DeFi.
For this, Binance Founder & CEO Changpeng Zhao (CZ) has announced to introduce a $100 million seed fund to support emerging DeFi projects on the Binance Smart Chain platform and to integrate centralized finance (CeFi) with decentralized finance (DeFi). The funds will be utilized for the community of developers that represents one of the most significant commitments of Binance towards encouraging rapid growth and adoption of various DeFi projects.
Furthermore, AllianceBlock's collaboration with Binance Smart Chain will also help the former to follow its vision to build its first-ever globally compliant decentralized capital market. This partnership with Binance will also solidify AllianceBlock's ecosystem of TradFi institutions to benefit from factors like greater efficiencies, the faster execution speed of the BSC. With multiple products already planned to be released for Q1 2021, AllianceBlock anticipates rolling out its first significant financial institutions around the same time.
With this partnership onboard between AllianceBlock and Binance, Binance users will now be able to stake its native BNB token and AllianceBlock's native token ALBT (bALBT on BSC) and gain high yield staking rewards for both the pairs. Therefore, to commemorate the launch of this new liquidity mining program, AllianceBlock has announced to offer one million bALBT as the initial-month reward, with a starting APY of approx. 12,000% (it may change subject to any pending liquidity).
The integrated Liquidity Mining Program will be utilizing a similar technology, just like AllianceBlock's core Liquidity Mining Program. Also, the Binance Smart Chain LM version is wholly audited by a significant cybersecurity expert in the blockchain industry named CertiK, which is also the strategic partner of AllianceBlock.
Talking about this partnership, the CEO of AllianceBlock Rachid Ajaja said,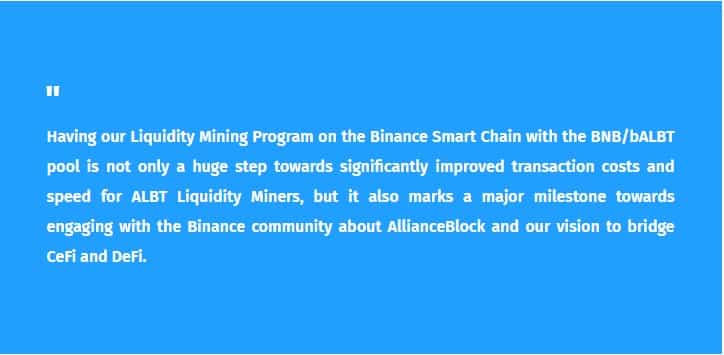 He further added for choosing Binance as its partner,