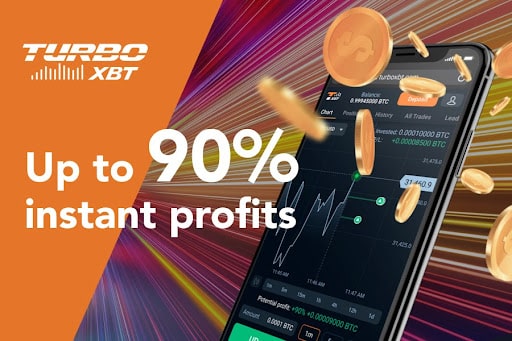 How to Trade Successfully with TurboXBT
The most successful traders in the world are not given birth to those innate abilities, and they learn how to be successful in their engagements. It is possible to become a successful trader with TurboXBT, a synthetic digital asset trading platform that is growing in popularity, owing to its guaranteed instant payouts at a high Return on Investment of up to 90% per trade.
Despite the relative newness of the exchange, it offers a number of outstanding features that puts it on the radar as a prominent trading platform for the next generation of traders.
Unlike many gambling platforms that promise money doubling, trading on TurboXBT demands clear strategies, risks, money management skills, and many more. While TurboXBT pays and rewards its users handsomely, it requires work in order for anyone to maintain success trading therein.
Want to Trade Successfully on TurboXBT? Here's How
It should be understood that it is humans that designed financial markets, and any hope of attaining expertise in any of the industry's niches must require adequate research. Adequate reading of market fundamentals, the study of techniques, the impact of macroeconomic policies on specific markets, and more are essential deal breakers for professional and successful traders.
Research is the number one recipe on the journey on how to become a successful trader on TurboXBT. The platform lets anyone place UP or DOWN contracts on synthetic assets tracking the price of indices, cryptocurrencies, commodities, and foreign exchange, all within a very short time span. Research into the factors that drive the movement of these four market areas that TurboXBT supports is crucial and recommended in understanding the price actions that will be seen on the platform.
It is also a must for all traders, especially new ones, to understand the TurboXBT platform in its entirety. There is a provision for users to understand how the TurboXBT exchange works through the Demo Account that accompanies every registered account. This demo account comes with a $1,000 fund through which users can place trades in a bid to understand exactly how the platform works. The losses and profits are not real, but they help prepare the trader ahead of the actual trades involving cash.
The most successful traders on TurboXBT are those who utilize every of the platform's resources, as mentioned above, as well as the resources on its Blog page. This helps in the recommended research and helps keep users up to date with the features introduced on a daily basis.
The emergence of TurboXBT also offers other features, including a reliable platform uptime (99.9%) which largely helps users pick the tiny changes in the market per time. Since every platform has its unique models, attaining good success on TurboXBT may also involve participating in the platform instituted Revenue Sharing program. While this is not mandatory, traders who have a sizable following online can use this program to rake in lifetime income of up to 50% from their referee as long as the user will keep trading on the TurboXBT platform.
In all, successful traders identify the general risks and customize their approaches to solving them. As a rule of thumb, investing or entering into short-term contracts on the TurboXBT platform, irrespective of the promising ROI, should be done with disposable funds or funds that you can afford to lose.
Community Collaborations
Part of the mission of creating the TurboXBT platform is to help build an ecosystem of successful traders. Based on this, the exchange encourages community collaborations of its users through its social media platforms. The idea is simple when traders have room to interact and discuss events shaping the market, many gain more insight to improve on their future trading engagements.
The recommendations to help anyone become a successful trader is non-exhaustive, and users who wish to build a career in trading must develop personal strategies and ideologies to help them maintain stellar performances the majority of the time.