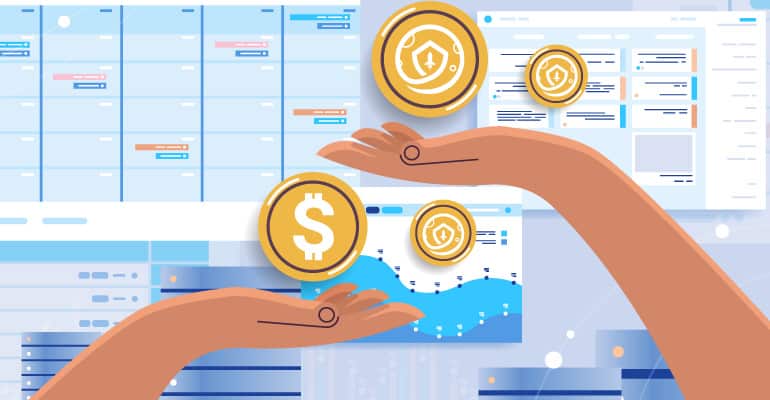 Is It Profitable to Invest in SafeMoon?
Introduction to SafeMoon (SAFEMOON)
With cryptocurrencies becoming mainstream many sectors have already started integrating digital coins into their systems; most of them succeed but some fail. The reason for failure is not because cryptocurrencies are volatile assets (all crypto coins are volatile and so there is no difference), but because they have chosen the wrong crypto coin to incorporate into their system that might be a bubble. So, it is important to choose the right crypto and SafeMoon is one of the kinds. After the launch of the meme cryptocurrency "DOGECOIN", the bullish trend in its price continued, for which the crypto lovers coined the name "SafeMoon" for the new crypto coin that resembles the different phase of the moon to depict the changing market conditions.
SafeMoon tokens discourage constant selling by investors by charging a fee of 10% for each sale and thus preventing larger falls when high-stake investors decide to sell their tokens. The SafeMoon platform is managed by 6 leaders who outline new plans for the mass adoption of the coin. The company is also all set to unleash an independent app (Safemoon app), a wallet, and some proprietary games. Besides this, Safe moon also plans to build its own cryptocurrency exchange platform in the future. Currently, it runs on the Binance blockchain network.
What Is SafeMoon (SAFEMOON), and How Does It Work?
SafeMoon is a relatively new cryptocurrency that has emerged post-COVID pandemic. It is a community-focused DeFi (decentralized finance) token that is developed to eliminate the limitations of popular meme cryptocurrencies like Dogecoin and Shiba Inu like inflation and price volatility. Thus, it is more focused on ensuring safe gains by removing the bubbles that exist in the cryptocurrency industry.
The SafeMoon DeFi token runs on the Binance Smart Chain (BSC) via Yield-Farming that runs the SafeMoon protocol. Through this process of Yield-farming, SafeMoon attempts to resist the volatility factor of cryptocurrencies by rewarding investors with interest payments for holding the coins. Extra tokens are given out to investors to encourage them to retain their holding which is termed as "Hodling" in the crypto market.
The SafeMoon protocol is based on 3 distinct functions, namely reflection, LP (liquidity pool) acquisition, and Manual Burn. The protocol adds tokens to the LP for supporting SafeMoon's value and the development team working behind destroys the tokens to control the supply circulation. Burning the tokens creates a scarcity of the token in the market which in turn increases their demand thereby spiking the prices.
Historical Data of SafeMoon
In an era when the prices of cryptocurrencies rise and fall abruptly SafeMoon has emerged to be one of the safest cryptocurrencies that hit the market in 2021. Soon after its launch, it caught the interest of investors, and just within a month the price spiked by 7000%. However, owing to its newness, there are not many historical data recorded so far. According to a popular cryptocurrency exchange, 585.536 trillion SafeMoon coins are presently there in circulation. Currently, the token is trading at $0.000001701 after reaching an all-time high at $0.00001399 soon after its launch. However, on April 20, 2021, the price closed at $0.00001118 just after one day of trading at a high price. Moreover, except for a price shoot in May 2021, the price of the SafeMoon coin trended downward for several months which created huge speculations as to the viability of the coin in the years to come.
SafeMoon is ranked 214th in terms of market dominance with a market value of over $1 billion, which implies that the coin is performing quite well if not the best because it is still in its stages of infancy and has not been explored by many.
Is It Profitable to Invest in SafeMoon (SAFEMOON)?
It is too early to predict whether investing in SafeMoon will be profitable or not. The coin is very new in the cryptocurrency market and has just started off its journey amongst powerful competitors and market leaders like Bitcoin and Ethereum.
SafeMoon Price Prediction 2022 and Beyond
The price of SafeMoon has spiked by 85% since the last few months and is closing towards a resistance level at US$0.00000208. If predictions are to be believed, the price of SafeMoon might bounce back if it manages to close at US$0.00000321, with an approximately 55% upswing. Furthermore, this is anticipated to affect the SafeMoon price prediction positively.
Top 3 Exchanges to Invest in SafeMoon: List
SafeMoon tokens can be purchased through the SafeMoon wallet but users need to buy Binance Coin or BNB and then convert them into Smart Chain and then they can be swapped into SafeMoon tokens. Otherwise, SafeMoon coins can be purchased directly from platforms like PancakeSwap and BitMart.
Conclusion
SafeMoon was launched to give tough competition to other meme cryptocurrencies like DOGECOIN, by rewarding long-term investors. But unfortunately, its price falling to a resistance level is creating huge speculations among investors about the credibility of the coin.