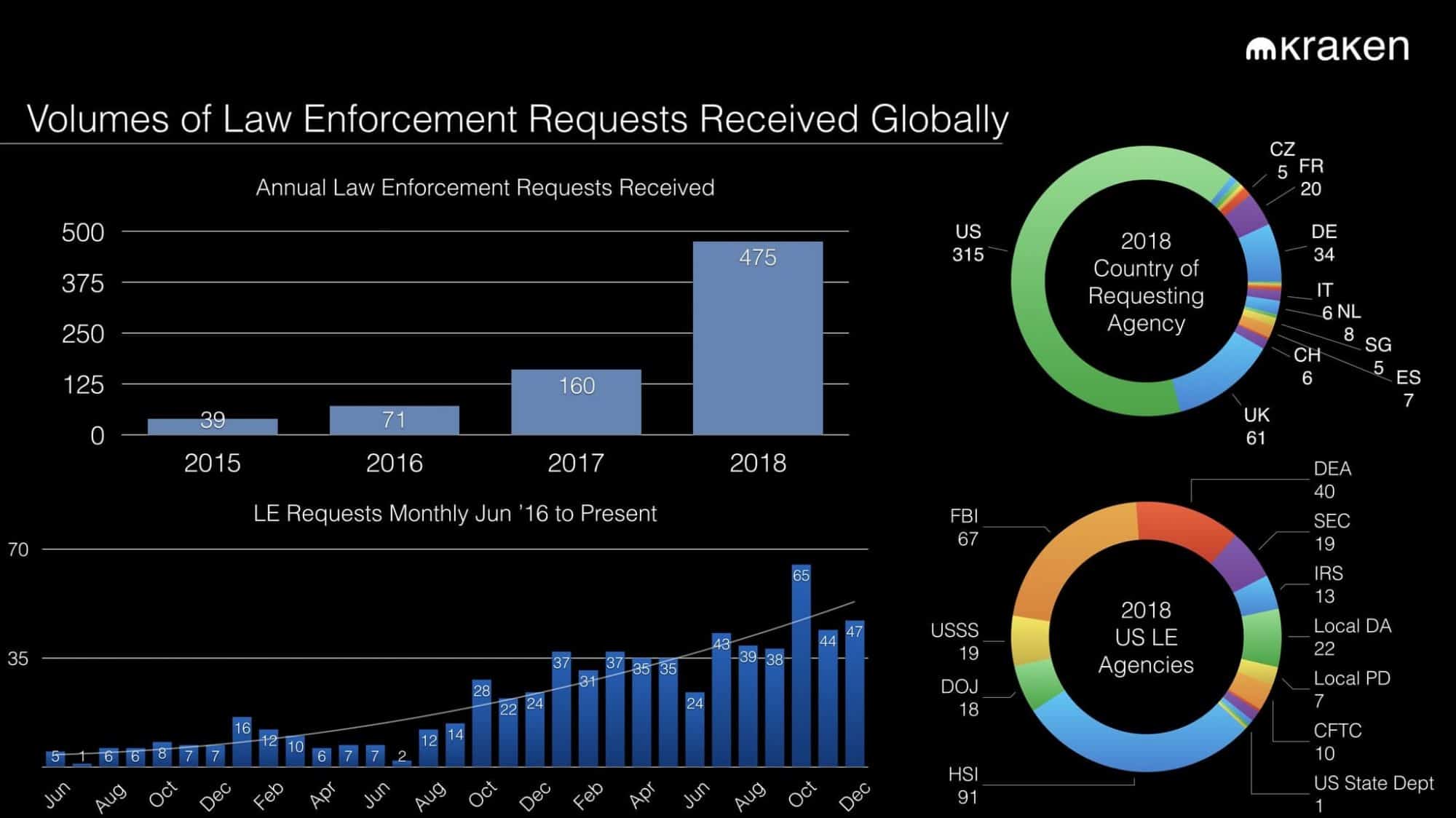 Law Enforcement Inquiries Received by Kraken Grows Three-Fold
As per a recent post by the cryptocurrency exchange, Kraken, it has received close to three times more inquiries in the year 2018, when compared to what it received in the year 2017. These inquiries are with respect to law enforcement. The post was published via Twitter on 5th January by the exchange.
In the tweet, the exchange stated, "Peek at our Compliance team's 2018 Transparency Report. You can see why many businesses choose to block US users. Cost of handling subpoenas (regardless of licenses) is quickly becoming a barrier to entry. Inquiries up 3x [year-on-year]."
The exchange posted an image along with the statement, which showed the data concerning the number of inquiries it has received since 2015 on a year-on-year basis. As per the data, the number of inquiries has been increasing every year. The exchange has received 475 law enforcement inquiries from global government agencies in 2018, whereas in 2017 the number was only 160 for the same. In 2016, the exchange had received only 71 inquiries, whereas this number was a mere 26 in 2016.
Furthermore, the tweet has drawn attention to the importance of the United States agencies and reported that around 315 inquiries have come from the U.S. government bodies out of the total list of 475 inquiries received in 2018. Adding it stated that "you can see why many businesses choose to block US users." Second in the list was inquiries flowing in from the UK.
The U.S. Homeland Security Investigations (HSI) agency, which is an arm of the Department of Homeland Security, submitted the most inquiries – 91, followed by the FBI with 67 inquiries and DEA being the next with 40 inquiries. Other departments sending in inquiries included the Department of Justice, the Securities and Exchange Commission, the Internal Revenue Service and local district attorneys and police department, which would be from various jurisdictions around the country.
Earlier during December, the Florida-based United American Corp. (UnitedCorp) had supposedly filed a claim against Bitmain, Bitcoin.com, Roger Ver, and Kraken. The claim alleged that the accused were deploying unfair routes and practices to influence the network of Bitcoin Cash (BCH) for their individual benefit that ultimately led to the loss of UnitedCorp and other BCH stakeholders.