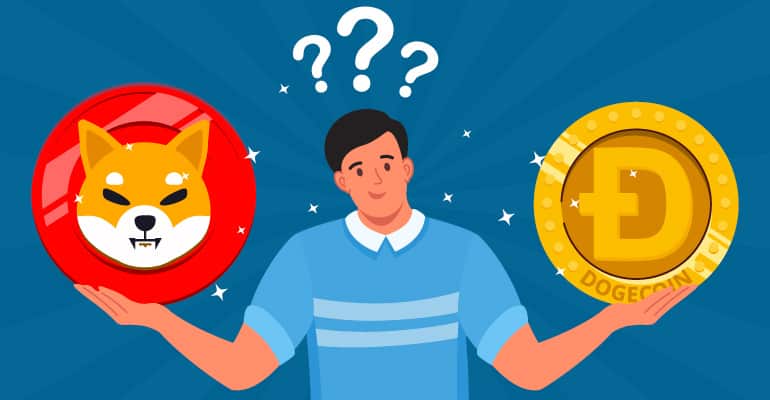 Which Is Better Buy in 2022: Shiba Inu or Dogecoin
Introduction
Dogecoin has never been faced with such a rivalry as with Shiba Inu. The two meme-coins have been going head-to-head for months now. With the arrival of Shiba Inu, the crypto community is provided with another dilemma, between Shiba Inu and Dogecoin. As the new year is already a couple of days in, investors are seeking performance data and future forecasts to which of these dog coins would bring a better return to their money. This article intends to assist those desiring to learn about these internet joke-turned cryptocurrencies.
What is the Shiba Inu coin?
Not even a year since its introduction, Shiba Inu took the crypto world by storm with substantial changes in the market value. This is one of those coins that followed in the footsteps of Dogecoin to claim a share of the meme-coin market. The creator of Shiba Inu who calls themselves Ryoshi brought the coin into the market in late 2020, just as the world was operating fully online due to the internet. With impeccable timing, $SHIB soon has accumulated a large community which helped in large in its growth so far. In Mid-2021, the coin reached its best position of $0.000088. Since then the coin has seen many ups and downs, bringing a return of as much as 2000% at times.
What is Dogecoin?
The pioneer and longest-standing meme-coin whose origin is thankful of a joke about cryptocurrencies. Dogecoin grew slowly and steadily, like Bitcoin, since its creation in 2008. The sudden upsurge in its value not long ago owes much to the interest of big faces' in the coin, including Elon Musk. Many believe that, as Bitcoin is slowly becoming an Investment and Storage option, Dogecoin could easily be the viable cryptocurrency for everyday payments mainly in virtue of its pragmatic inflationary policies. 2021 was a stable year for Dogecoin, as there were no sudden fluctuations, unlike Shiba Inu. So, we can see that Dogecoin is taking its problems with volatility seriously and working to take over the crypto payment environment.
SHIB Vs. Dogecoin Technology
SHIB is an ERC-20 coin with a limited supply that currently exceeds 500 trillion. Shiba Inu's initial circulation was 1 quadrillion half of which was sent to Ethereum as a tribute. More than one-third of the tribute was removed from the chain permanently and the remainder was donated to India's COVID-19 relief fund. Shiba Inu does not come with a dedicated blockchain, as it is built to run on the existing Ethereum blockchain. It means the SHIB token utilizes the smart contact option for its transactions to make it more accurate and seamless.
On the other hand, Dogecoin belongs to the group of coins modeled after Bitcoins. Principally, Dogecoin derived its programming from Litecoin, another prominent altcoin. As opposed to Shiba Inu, Dogecoin uses proof of work consensus to carry out the transactions. So, the transactions have to verify by the number of nodes connected to the network. Moreover, Dogecoin does not have a circulation limit and the users are rewarded with 10,000 coins every minute. However, the volume of dogecoin is nowhere close to the overall volume of Shiba Inu due to the yearly minting limits.
Which is Better Buy?
Dogecoin is widely considered a worse knockoff of Bitcoin whose programming does not allow it to be a store of value like the latter. On the contrary as per the Shiba Inu coin forecast, Shiba Inu comes with a limited number of coins whose value is likely to increase in the future. As far the real-life applications are concerned, there is no potential difference between the two coins, with only a limited number of firms accepting them. But what gives Shiba Inu the edge here is the ShibaSwap, an inclusive ecosystem that enhances SHIB and other native coins like LEASH and BONE.
Is Shiba Inu Coin a Better Investment than Dogecoin?
The perspectives surrounding Shiba Inu as an investment option revolve around a few important personalities. The events like Ethereum's Vitalik Buterin's rejection of Shiba Inu have ignited confusion about the credibility of SHIB. People even cite Elon Musk's indifference towards the coin to be a sign to not invest in SHIB. Although it depends on the perspectives of the investors, Shiba Inu is too young to come to any conclusion. So, Dogecoin naturally has an upper hand against this nascent cryptocurrency.
Future of Shiba Inu
Being the youngest of the lot does not mean Shiba Inu is unreliable. Because the developers in Shiba Inu are working towards building a solid ecosystem with native coins like SHIB, LEASH, and BONE. The layer-2 Shibarium is expected to bring a much efficient and affordable outlook to the cryptocurrency. Furthermore, this meme-coin has plans to explore the concepts of metaverse and gaming tokens. With Shiboshis, a collection of non-fungible tokens, Shiba Inu is all set to explore a whole lot of areas in the future.
Takeaway
It is difficult to say which holds better for 2022 now, as meme-coins are known for their unpredictability. However, considering grand plans Shiba Inu has a few more tricks than Dogecoin. Still, we will only know how it pans out when the bear market hits the coins. So, the wait continues.