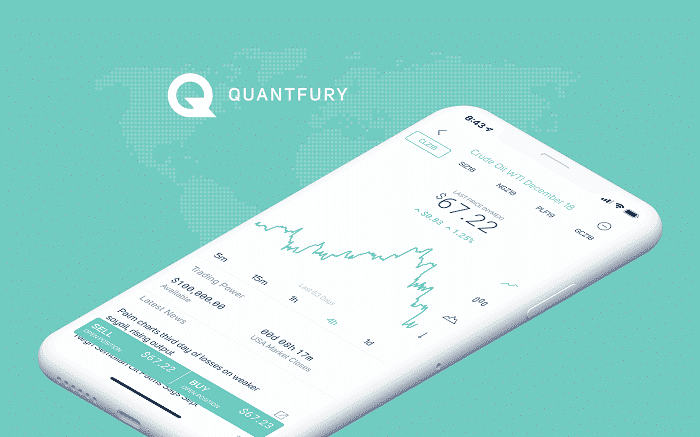 Trade without any fees in the new App launched by Fintech Firm
A fintech company is entering into the retail trading sector and by which the crypto investors will be able to use their digital currencies as collateral and will be able to trade across markets with fiat funds, without paying any commissions or fees.
"Our mission is to make the markets absolutely transparent and fair," says along with providing the crypto fanatics a chance to use their assets in a new and better way.
Quantfury on its trading platform will offer access to more than 750 mid cap and large cap stocks listed on major the United States and European exchanges, eight major cryptocurrency pairings, 14 fiat pairings and also trading in commodities including crude oil, gold, and silver.
Quantfury is based in the British Virgin Islands, with offices in Toronto and Singapore.
The company's CEO, Gregory Kim, explained: "Quantfury was started by a group of traders, quants and machine learning professionals who set out to change the exploitative retail trading industry. The goal was to make trading financial markets absolutely transparent and fair, with zero commission or leverage fees for people worldwide. Our users buy and sell equities, cryptocurrencies, fiat pairs and commodities at the best bid and ask prices delivered directly from global exchanges."
Kim who has worked as a trader in top-tier investment banks for the past 12 years suggested that most of the traders who use old-fashioned platforms end up losing money because of information asymmetry. He said: "A lot of retail trading platforms/brokerages try to sell the idea of a fair and skill-based game, but it is not. The truth is, they are running a system that preys on anyone who has a few hundred dollars, to those with deep pockets. They do this by running unfavourable trading conditions and selling false hopes that anyone can get rich by trading the markets."
The major intention of Quantfury is to pull the regular cryptocurrency holders into their platform and to enable them to trade in the markets without any additional margin and by using their assets as collateral. In a twist on the motto "don't be evil," the company says the value driving its business is "cannot be evil."
Quantfury's mobile apps are live and available for download. The company currently accepts collateral in Bitcoin, Ethereum and Tether, and will soon be expanding to other major cryptocurrencies by January 2019.
In order to keep things simple for the new users of their app to make trades, Quantfury says it has created "effortless onboarding," which will enable a new user to open an account within two minutes post downloading the app. IT further added that the users will be given a fiat trading margin of up to 20 times of their collateral value. However, the value of loss cannot exceed the crypto collateral value at any given point of time.