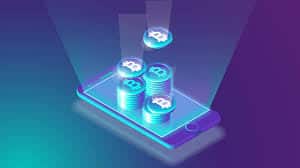 Samsung Announces New Features Of Galaxy S10 At Mobile World Congress In Barcelona
South Korean tech giant Samsung revealed the new features of the all-new Galaxy S10 series smartphones some of the first blockchain partners at the Mobile World Congress in Barcelona, Spain on Monday, Feb. 25. The new series will have wallet functions for Ethereum (ETH), Bitcoin (BTC) and two other tokens. Samsung announced various crypto and blockchain related projects featured on the Galaxy S10's Blockchain Keystore which included support for Bitcoin, Ethereum, COSMEE token (COSM) and Enjin's token (ENJ).
COSMEE is a blockchain-enabled mobile beauty decentralized app where users can earn as well as spend COSM tokens. It is also reported that the users of Cosmee can save their cosmo coins directly in the crypto wallet of Galaxy S10. While on the other hand, Enjin crypto project targeting the gaming platform with a cryptocurrency wallet. It offers blockchain game development and tokenized in-game goods. It is reportedly can be used to send and receive ERC-20 tokens and ERC-1155 crypto game assets. Samsung did not disclose exact details of the partner services which will possibly be featured on the phone at launch or soon after the launch.
CEO of Cosmochain, Howon Song said:
"Since last year, the blockchain team of Samsung Electronics Wireless Division has been searching for dapps that have been commercialized. As a result, Cosmochain has been selected as a partner of Galaxy S10. We did dozens of meetings to verify the model and technology. "
Though Enjin logo was displayed at the event partnership of Enjin with Samsung is yet not confirmed. However, promotional shots which were tweeted on Monday too reflected a wallet app on the new smartphone which was identical to the Enjin offering. Last year in December, Samsung completely refused to execute the idea of an integrated crypto wallet by claiming it to be "rumor and speculation." But the leaked photographs of the new smartphone in January indicated that the new flagship Galaxy S10 would support an Ethereum wallet.
A random correspondence familiar with the technology of Galaxy S10 said that the tech giant has been discussing with Enjin for more than six months. The ability able to store the tokens for both projects in the new Galaxy S10's wallet app will make it easier to use the application.
.